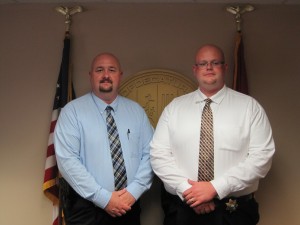 The Meigs County Sheriff's office currently has two Detectives. They are Lt./Det. Scotty Wiggins and Narcotics Detective Jason Roberts.
Lieutenant Detective Scotty Wiggins has been in law enforcement since 1997. He started his law enforcement career in 1997 with the Decatur Police Department and worked for the Knoxville Medical Center U.T. Police Department from 2001-2003. In 2003 Lt. Detective Wiggins came back to work with the Meigs County Sheriff's Office where he is currently the Lieutenant Detective. Lt. Detective Wiggins has attended numerous specialized training classes including, DEA & TBI Special classes on Meth Investigation, Certified Meth Lab Investigator, Certified Vehicle Stops and the Drug Trafficker, TBI Criminal Investigation school, Hamilton County Basic SWAT School, TN Homeland Security Tactical Perimeter &Containment Training, John Reid Interview & Interrogations, Multidisciplinary Team Training. Lt. Detective Wiggins is a member of the FOP, 9th Judicial Drug and Violent Crimes Tasks Force, Multidisciplinary Team –Crimes against Children (CAC), and a member of the Child Protective Investigation Team. Lt. Det. Wiggins strives hard to successfully prosecute each and every case that comes across his desk.
Narcotics Detective Jason Roberts began his law enforcement career in 2001 as a correctional officer with the Meigs County Sheriff's Office. In 2002 he was hired by the Decatur Police Department and completed the Basic Police Academy at Cleveland State. Between 2004 and current, he has served both McMinn and Meigs Counties as a deputy. Detective then became night-shift Sergeant in 2009. Detective Roberts is a member of the Tennessee Meth Task Force. Detective Roberts attended the Hamilton Co S.W.A.T. School in 2006 and F.B.I. Sniper School in 2009. As a Sgt., Detective Roberts successfully conducted narcotic investigations that have led to felony arrests, search warrants and Federal indictments which led to his promotion to Narcotics Detective in May 2013.